New puppy owners will benefit from specialized training as they welcome new family members. Sublime K9, a dog training school based in Wantagh, NY, is pleased to offer their new 'Long Island Puppy Pre-school' for new dog owners in the Nassau and Suffolk regions.
Understanding the challenges in welcoming a new family member, especially one on four legs, this class was created to not only train the puppies but also their new owners.   This very unique group class for puppies between the ages of 8 weeks to 20 weeks not only offers an opportunity for a new puppy to socialize with other puppies but we also for new owners to learn all that it takes to ensure the puppy is set on the path to be a well-behaved member of the family.  Professionals dog trainers, groomers, licensed veterinarians, pet CPR instructors and dog walkers, will be able to answer every question as well as cover topics that owners might not have thought of.
Sign up your dog for puppy kindergarten!
The team at Sublime K9 Dog Training emphasis that the ages of 8 to 16 weeks are a critical time for puppies in terms learning and socialization.  Owner Jessica Freedman CPDT said "During this period, puppies can develop up to 90 percent of their attitudes toward people, other animals, and their environment.  Avoiding common behavior issues and learning from professionals how to raise your puppy to be a happy, healthy dog."
During the class some of the topics and activities covered include house breaking, handling exercises (prepares for vet visits, grooming, etc.), basic problem solving, preventing problem behaviors, basic obedience, first aid, health issues, basic manner and more.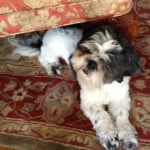 A graduate of the National K-9 Learning Center where she earned her designation as a Certified Professional Dog Trainer, Jessica has over 10 years of experience as a dog trainer.  A professional member of International Association of Canine Professionals, her love for canines has also led to work in the veterinary field and as a dog walker to learn as much about dog's health and wellness as possible.  It is this combination of training, experience and dedication that has made her a respected member of the canine training profession.