Long Island Dog Training - Sublime K9
Sublime K9 Long Island Dog Training specializes in providing Your Family Dog with Dog Obedience Training, Puppy Pre-School, Dog Behavior Modification, Dog Manners, and Therapy Dog Services. We have an experienced Long Island Dog Training staff here at Sublime K9.  Our Long Island Dog Training services both Nassau & Suffolk Counties:
Nassau (516) 246-1516: Atlantic Beach, Baldwin, Bellmore, Bethpage, East Meadow, Farmingdale, Freeport,  Garden City, Hicksville, Jericho, Levittown, Lido Beach, Long Beach , Massapequa, Massapequa Park, Melville,  Merrick, Mineola, Old Bethpage, Old Westbury, Plainview,  Rockville Centre, Seaford,  Syosset,  Wantagh, West Hempstead, Westbury, Williston Park, Woodbury.
Western Suffolk (631) 241-6482, Amityville, Copiague, Lindenhurst, Babylon, Deer Park, Dix Hills and more!
We can develop training programs for Your Family Dog that are  #1 Veterinarian and Client Recommended!  These programs ensure your dog lives a happy & healthy life and ensures a great relationship between you and your pet for a lifetime. Call Sublime K9 Long Island Dog Training now for your free evaluation.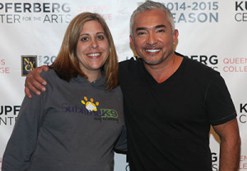 Jessica Freedman, Sublime K9
Owner & Cesar Millan
Success Stories
We are a 5 Star Recommend Long Island Dog Trainer across Facebook, Google and Yelp.
My dog would go insane when people came to the door with jumping and excessive barking, would steal my sons toys and destroy them for attention and not listen to come inside at times. Nikki... read more has been nothing but amazing and after the training sessions, he's a new dog. He had to learn new commands that he never new before and now all the negative behaviors are gone! Highly recommend this company. By the way, my dog is 6 years old with no past proper training and is amazing now. Thank you!

Kristina Cavalcante

1/27/2018

We are so appreciative to have been able to work with Nicki in controlling our 16mo German Shepherd's excitement. From week 1 with Daisy jumping all over when someone walked in...to week 5 where she... read more now sits patiently at her 'place' has made a huge impact in our lives. We are now able to enjoy her while we have company over, which is what we have always wanted. Besides controlling her excitement at the front door, she has learned to sit and wait patiently for her meals to be served until she is released. With a bunch of other commands that Daisy has learned, these have been the greatest. It truly has been such a great change and we couldn't be more thankful for having Nicki lead us in the right direction. Thank you so much Sublime K9!

Kristin Hochbrueckner

1/24/2018
Graduates Instagram Gallery
View some of the wonderful Long Island Dog's we have trained throughout our existence.
Something is wrong.

Instagram token error.
Follow Sublime K9 on Facebook
Sublime K9 Long Island Dog Training Overview
Get to know Sublime K9 Long Island Dog Training, how we got started, and what the benefits of a well trained dog are. Also see some of our clients in action.
Long Island Dog Training Credentials
Professional Member of International Association of Canine Professionals

National K-9 School for Dog Trainers Certified Professional Trainer

National Certifications in Basic Obedience Training, Behavior Modification and Utility Training, Relationship Games, Leash Reactivity

Winner "Best Dog Trainer on Long Island" 2014 - Bethpage LI Press

Behavior Adjustment Training (BAT) Instructors Course
Follow Sublime K9 Long Island Dog Training